Bubble
Calendar
The poster-sized calendar with a bubble to pop every day
Buy now for $24.95
Free Shipping Available!
Want to hear about the next calendar?

Made with real Bubble Wrap® for a bigger POP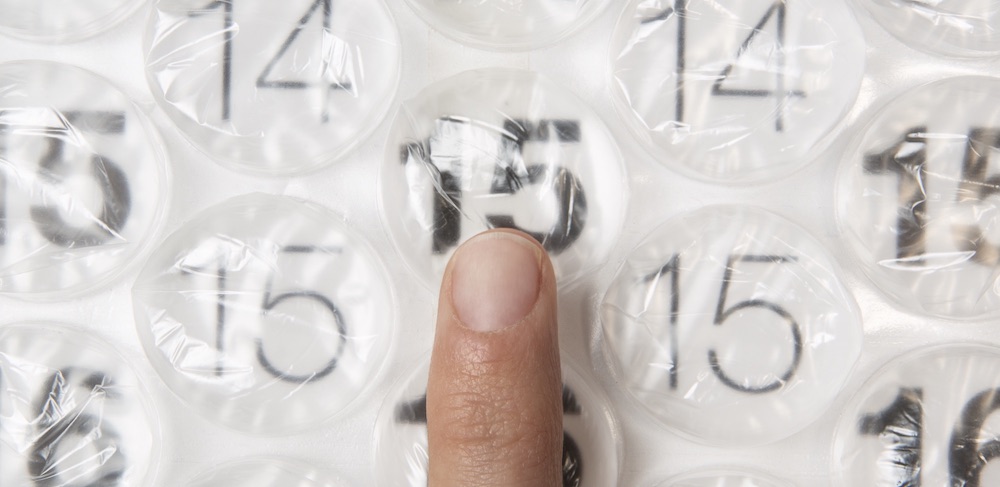 A huge poster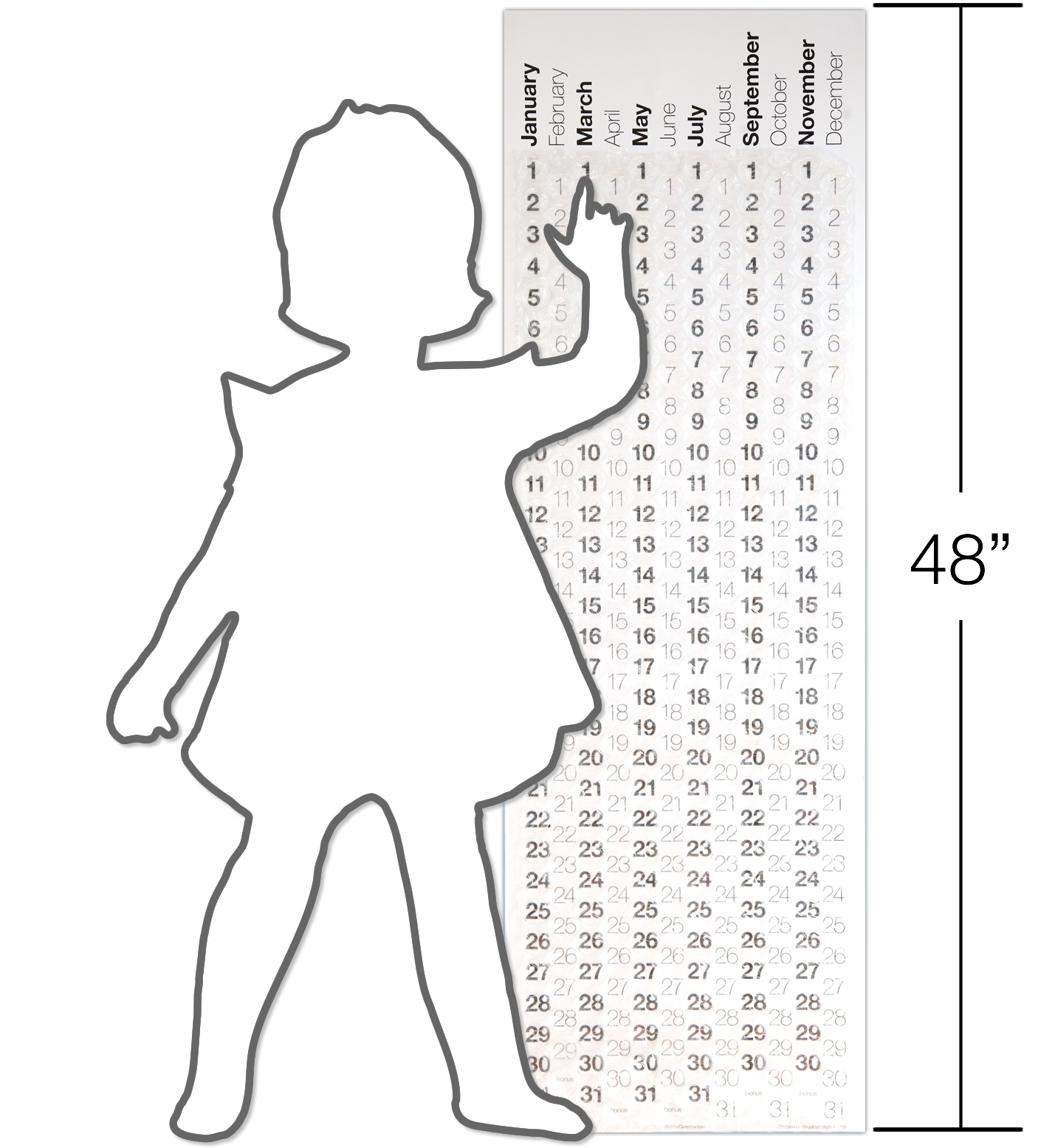 Includes color stickers to mark your special days.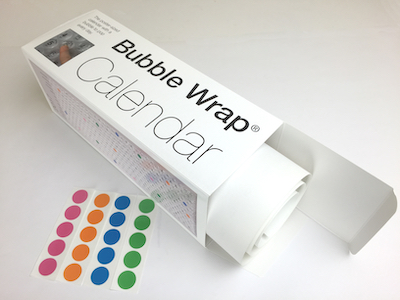 Let our crack testing team show you how to pop
Customer Reviews
I can't believe I popped the whole thing!
This is a totally fun product. Who doesn't love Bubble Wrap? It actually hard not to pop them all. I keep it at the office so I get to pop 3 on monday!
peter t- on Sep 23, 2016
So cool! Excited to pop it everyday
So cool! Excited to pop it everyday. I did have a problem with it ripping off the wall. To solve the problem I stock a piece of ducktape on the backside of the calendar where I wanted to place the tack and I have never had a problem again.
Nathan Hansen on Jul 26, 2016
POP! POP!After getting my calendar for Christmas last year, I stuck it to the wall in my den and patiently waited for the new year to arrive so I could POP my first, bubble. I refer to it as my "Bubblix Calendar," because I can't help but believe that the packaging material that my family so loved to get, (just so they could sit around on Christmas Day POPPING the bubbles) was the inspiration for this calendar. If the creator of the Bubble Calendar denies this, I won't believe him/her!
I only hope that my 2017 calendar arrives in time to start my POPPING on New Years Day!!! After becomng disabled due to M.S., my daily POP of the calendar has become one of my few remaining pleasures! I don't mean to sound droll in this review, but I REALLY DO enjoy marking each new day of Life this way!!! John Dobrzanski on Dec 21, 2016
If you love popping bubbles
This product is awesome!
Gina on Jul 17, 2016
Five Stars
Amazing! This is my second year having a bubble calendar! Best way to start the day!
Samantha Hughes on Jun 23, 2016
Five Stars
Bought this for my 12-year-old cousin and she absolutely loves it.
sacmcdonald on Apr 28, 2016
Kind of a waste but cute gift!
Cute gift for hard-to-buy for teenage nephews and nieces!
A Customer on Apr 28, 2016
So fun -really great
So fun really great. I took the bubble wrap off to use as a deployment countdown calendar and really like it.
Carolyn S on Apr 11, 2016
Four Stars
Made for a great nobody got you THIS Christmas stocking stuffer for my sister!
James L. on Mar 11, 2016
not the tiny ones that are fun to pop
The calendar is larger than I excepted. I had to put it on the back of a door; otherwise it would take up way to much wall space. I also had to use clear packing tap across the top and bottom to hang it because the poster board kept wanting to curl back up. It's basically a long piece of poster board with packing bubbles glued to it. They're the large bubbles not the tiny ones that are fun to pop. The dot stickers are transparent which is nice because it allows you to see the number underneath
Elisabeth on Jan 28, 2016
Better than banana slicers
Have you ever woken up and immediately wanted to destroy something? Of course you have. Nary a day goes by that causing a bit of destruction wouldn't make the rest of the day so much easier to handle. I've woken up and smashed alarm clocks with hammers. It got expensive even replacing the cheapest alarm clocks daily. I've broken a few eggs (and enjoyed the ensuing omelettes that came with it). I even crashed my car into some medians on the morning commute but after three times my insurance company told me they frown upon such behaviors. Then came this. Every morning I wake up and hold in my rage long enough to amble over to the bubble calendar and start my day off my popping and utterly destroying the current day's representative bubble. It has done wonders for my psyche and I no longer have the urge to ruin other household goods or roadside attractions.
SW3K on Jan 23, 2016
Hand Made in the USA
These calendars are custom printed on thick 80 pound cover stock. The type is set in Classic Helvetica Neue.
We've been in the press
Want to write about us? Thank you! Click above photos for high resolution images.
We sell wholesale
Contact us [email protected]
About Bubble Calendar
We're a literal mom + pop company, designing and producing quality products in Brooklyn for over 10 years.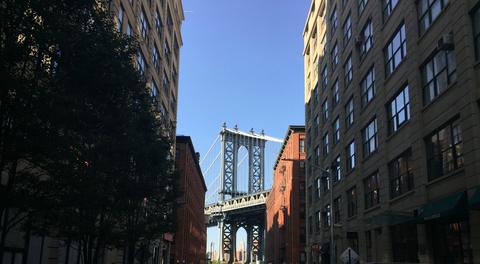 Copyright Bubble Calendar LLC